Franchise management
Build the next hockey dynasty by making the right decisions about key aspects of your franchise.
---
Manage player and staff contracts, track development of young players, improve the team with trades or fill the missing spots with free agents.
Player Contracts

Sign prospects, contract extensions or buy-out bad contracts to assemble the best team possible.

Head Coach

Hire a head coach to improve development of your rising stars and help players get out of a slump.

Trading

Trade players and draft picks to add the missing pieces to your roster.

Career Statistics

See your team's transformation by browsing career statistics as well as your trade history.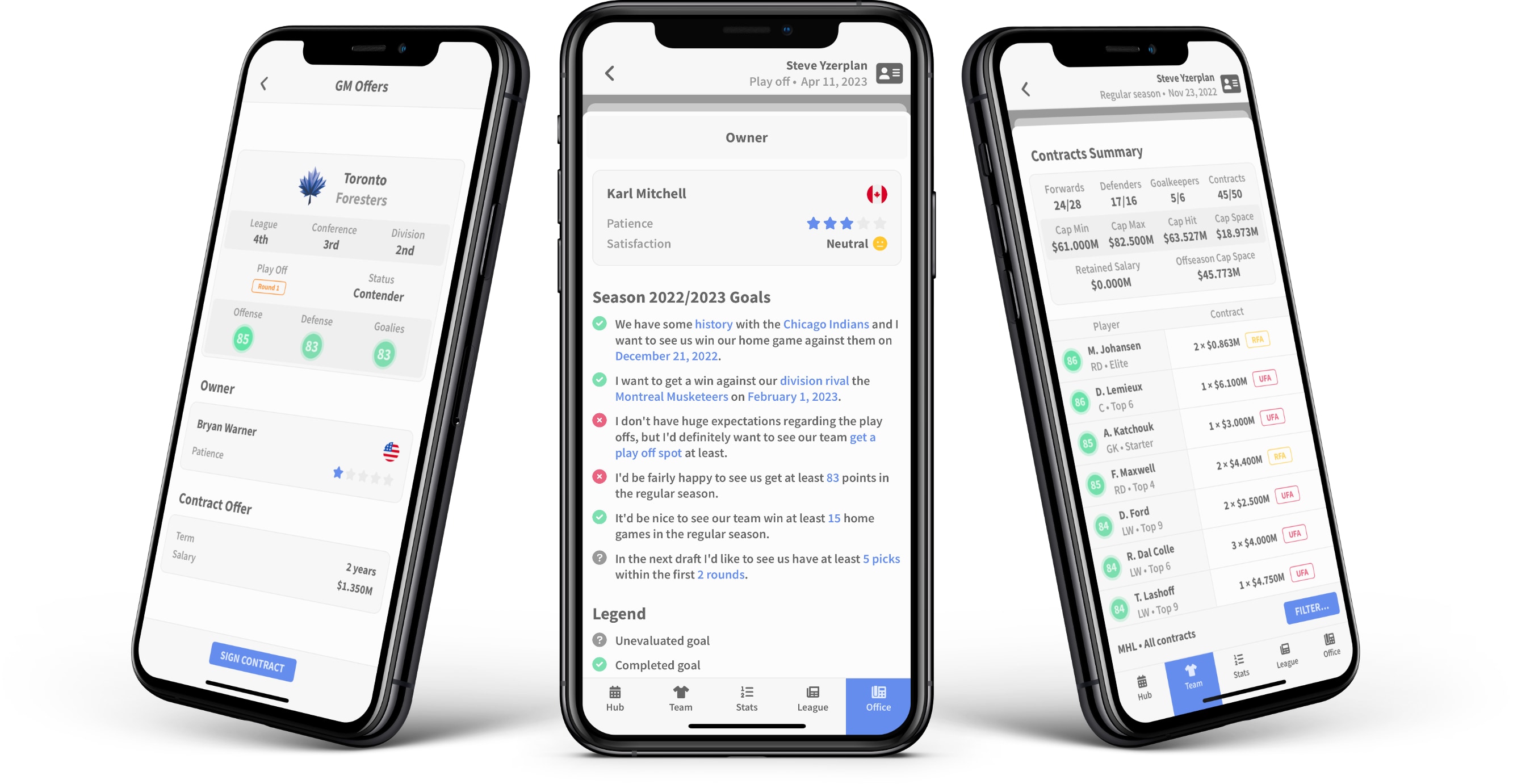 Minor League
Fully featured minor league provides additional level of control over your franchise.
---
Provide necessary ice time for prospects and keep a reasonable depth of players available for when the injuries start to creep in.
Prospects Development

Decide whether it is time to call up your prospects to the big league or keep them in the minors a little bit longer to let them gain the necessary experience.

Depth Players

Provide ice time for depth players or lower the salary cap hit by assigning bad contracts to the minors.

Roster Moves

Make roster moves between your teams and call up players as emergency replacements when injuries get in the way.
Scouting & Draft
Hire scouting staff for different regions and uncover information about upcoming talents.
---
Scouting staff provide you with insight into otherwise unknown player abilities as well as adjusted rankings of draft eligible prospects, giving you the opportunity to draft off the board.
Simulation Engine
At the core of Puck Drop is a hockey simulation engine that imitates the flow of a real game of hockey.
---
Scoring chances, penalties or injuries don't just randomly happen at predefined intervals. All events arise from the current situation as it has developed since the last stoppage of play. Oh and continuous overtime in the play offs? Who doesn't like that?!
Balanced Gameplay
Puck Drop aims to provide a balanced gameplay by simplifying selected aspects without making the game too easy.
---
Certain real-life aspects of managing a hockey franchise are too complex and far from entertatining. We strive to find a good balance between the challenge and the thrill of running a hockey franchise by getting rid of boring micro-management and providing experience that is expected from a mobile game.
Community Hub
---
Join the Puck Drop community to share and download custom rosters.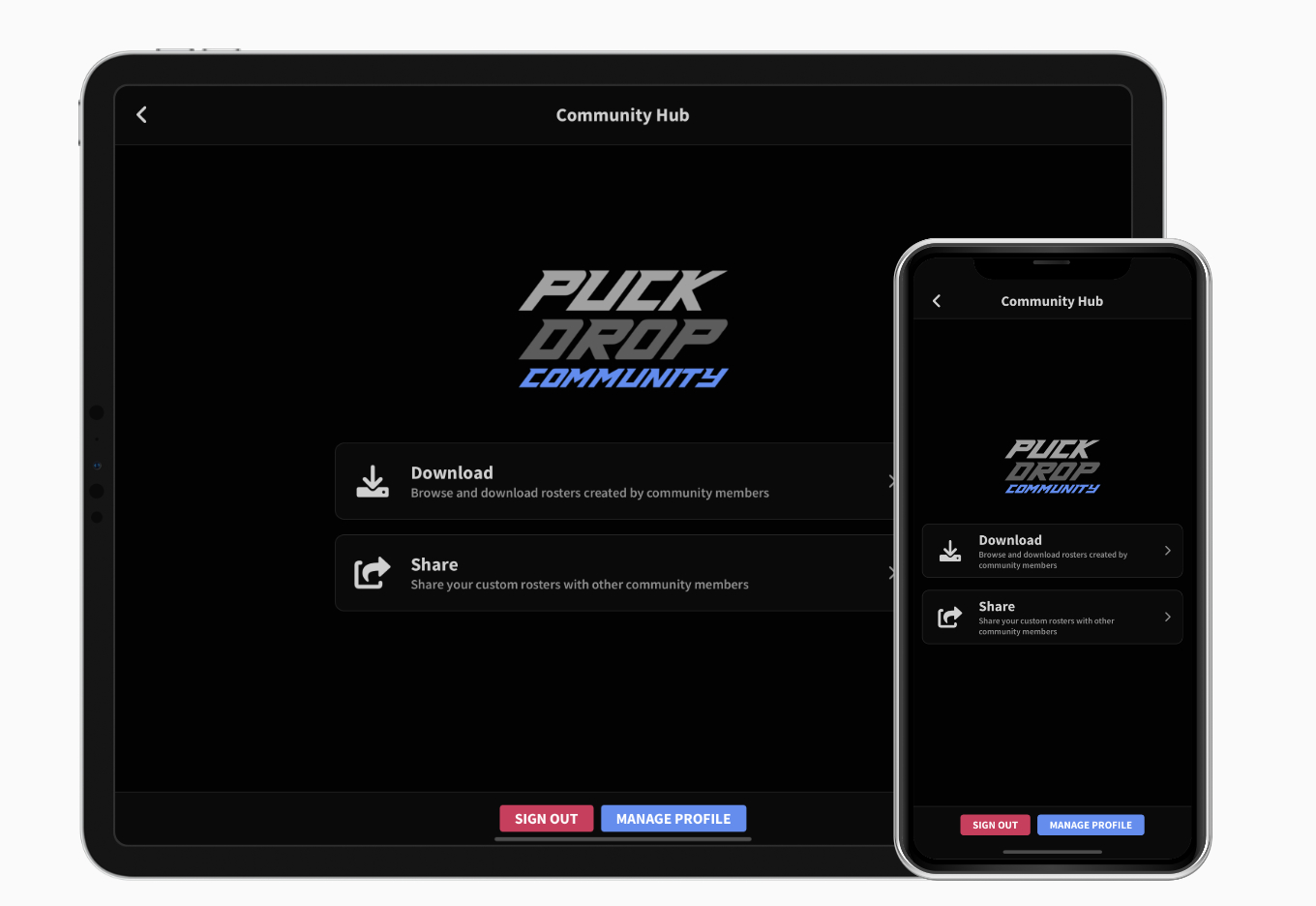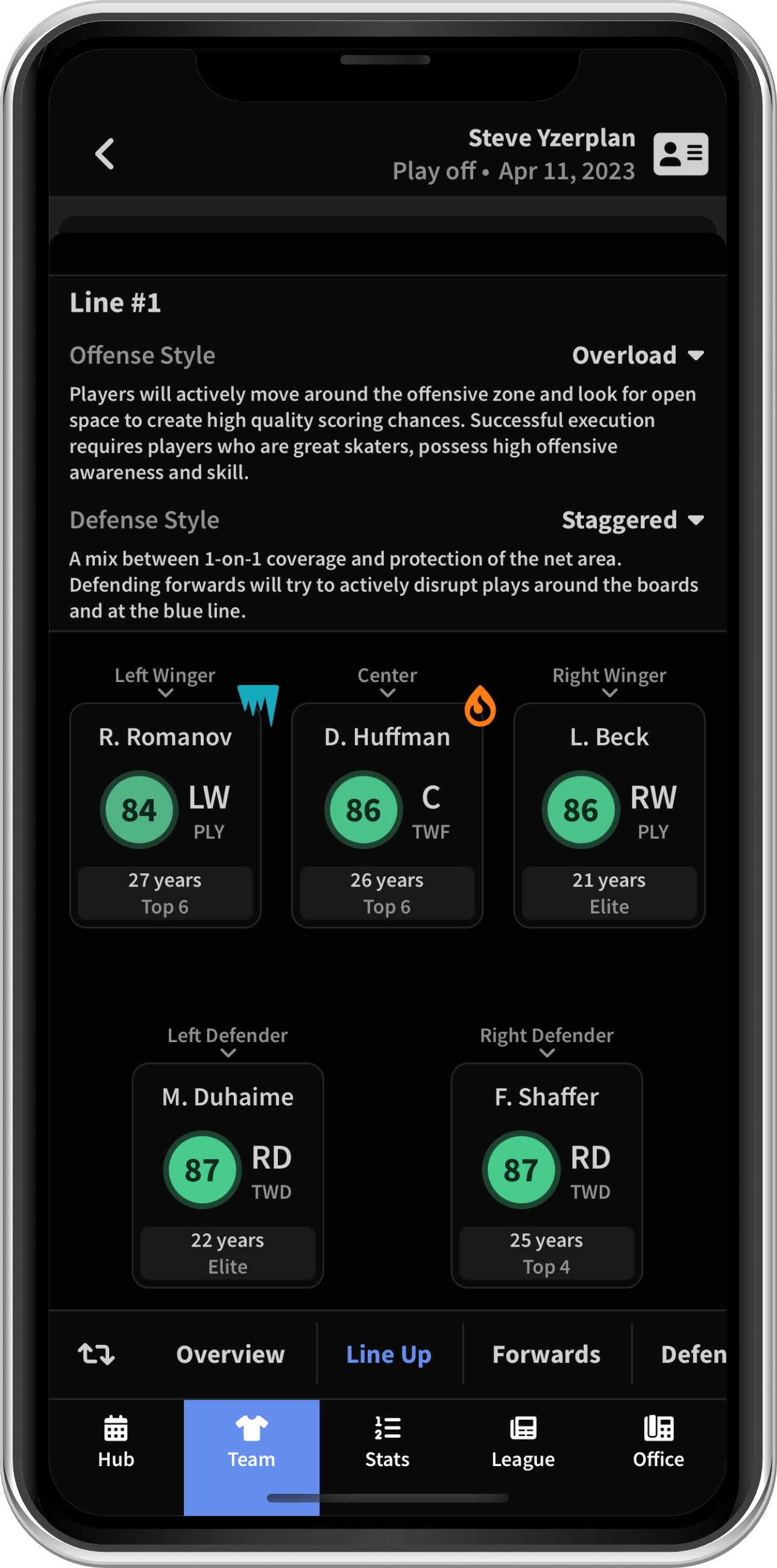 Dark Theme
Enjoy Puck Drop in low light setting with dark colors that are easy on the eyes.
---
Plus the clean and smooth graphic interface is a real joy to use. It is kind of hard the put the game down because of that. Sorry!